At five years of age, Luke Morin had decades of life left to live. But just 17 days after the young Denver, Colorado, boy was diagnosed with a Diffuse Intrinsic Pontine Glioma (DIPG), a cancerous tumor that begins in the brain stem and primarily affects children, Luke —  a "creative" and "brave" child — died on April 25.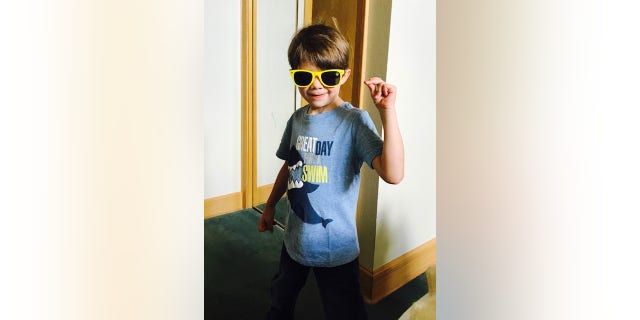 OKLAHOMA INFANT SUFFERS SECOND-DEGREE BURNS AFTER PULLING SLOW COOKER OFF COUNTER, MOM SAYS
"Our boy was stolen from us," the boy's mother, Jill Morin, told KMGH. "I do not want to see these families go through it. I don't want these kids to go through it."
Jill plans to take action against the disease, which, according to St. Jude Children's Research Hospital, accounts for roughly 10 to 20 percent of all childhood brain tumors. Roughly 300 to 350 new cases of DIPG arise each year, typically impacting children under 10 years old, according to the Weill Cornell Brain and Spine Center.
"The main issue with DIPG is that most of these tumors are not classified by grade because surgery to obtain tissue by biopsy or to remove the tumor is not safe because of the location of the tumor. When these tumors are biopsied, they are usually grade III or grade IV tumors, which tend to behave very aggressively," the hospital said.
These tumors are difficult to treat and inoperable in most cases, meaning the outlook for patients diagnosed with DIPG is bleak.
But the Colorado mom has decided to fight back against the disease, creating a fundraiser which has raised more than $130,000 as of Friday afternoon. All of the proceeds will eventually benefit the DIPG research team at Children's Hospital Colorado. Jill also created a 5K for the same cause, which is slated to take place in November.
OKLAHOMA GIRL, 4, ELECTROCUTED TRYING TO SAVE PUPPY STUCK BEHIND DRYER
"My husband had the best analogy for it, which was: DIPG was the drunk driver that killed our son. I say, 'DIPG messed with the wrong family,'" she told KMGH.
Jill Morin was not immediately available for comment when contacted by Fox News on Friday.