More than 450 patients died after being given powerful painkillers inappropriately at Gosport War Memorial Hospital, a report has found.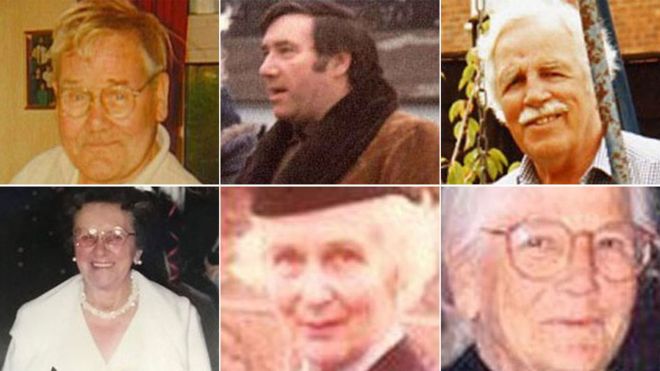 An independent panel said, taking into account missing records, a further 200 patients may have suffered a similar fate.
The report found there was a "disregard for human life" of a large number of patients from 1989 to 2000.
It said Dr Jane Barton oversaw the practice of prescribing on the wards.
Health Secretary Jeremy Hunt told MPs police and the Crown Prosecution Service (CPS) would examine material in the report to consider their next steps and "whether criminal charges should now be brought".
Bridget Reeves – whose grandmother Elsie Divine, 88, died at the hospital in 1999 – said: "These horrifying, shameful, unforgivable actions need to be disclosed in a criminal court for a jury to decide and only then can we put our loved ones to rest."
So far, the only person to face disciplinary action has been Dr Barton, who was found guilty of failings in her care of 12 patients at Gosport between 1996 and 1999.
But no prosecutions were brought and she was not struck off the medical register, choosing to retire after the findings.
Former Bishop of Liverpool James Jones, who led the Gosport Independent Panel, said: "The documents seen by the panel show that for a 12-year period a clinical assistant, Dr Barton, was responsible for the practice of prescribing which prevailed on the wards.
"Although the consultants were not involved directly in treating patients on the wards, the medical records show that they were aware of how drugs were prescribed and administered but did not intervene to stop the practice."
The panel found officers had a mindset of seeing family members who complained as "stirring up trouble" while seeing the hospital as the place to go for guidance and assurance during their inquiries.
The report added: "There was an institutionalised regime of prescribing and administering 'dangerous doses' of a hazardous combination of medication not clinically indicated or justified, with patients and relatives powerless in their relationship with professional staff."
Ken Woolley's father John died at Gosport in 1996 aged 68 after being admitted for a broken hip.
"As soon as we saw him the next day he was unable to communicate due to the drugs they'd given him," he said.
"There was another 11 days where he still couldn't communicate before he died.
"Something has to come of this – they have to get to the bottom of it."
As well as hundreds of death certificates, the panel analysed documents from the police, coroners, the NHS and other organisations.
The panel included geriatric medicine specialist Dr Colin Currie, investigative journalist David Hencke, former Scotland Yard Commander Duncan Jarrett and pathology and medical records expert Dr Bill Kirkup.