The HPV vaccine routinely offered to teenage girls in the UK is safe and protects against a virus that can cause cancer of the cervix, an independent review has found.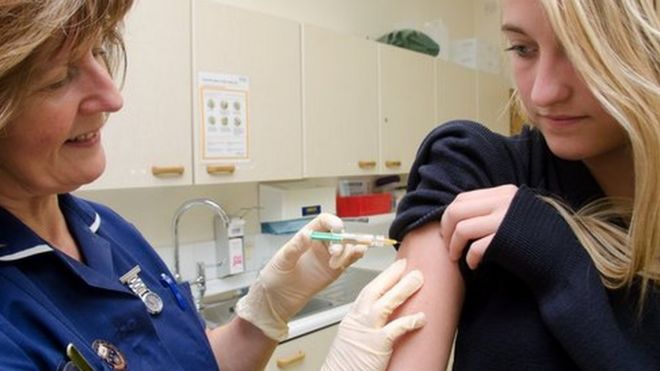 The analysis by the Cochrane Group provides solid evidence that should reassure parents considering having their daughters immunised, say experts.
It looked at 26 trials involving more than 73,000 girls and women.
Serious side-effects following the vaccine were rare.
Campaigners maintain the vaccine can cause harm and say this needs to be explored more fully.
Some parents say their daughters have become unwell after being immunised.
The European Medicines Agency, The World Health Organization and now Cochrane have looked at the evidence and say HPV vaccination is safe and worthwhile.
"Most women aged 15 to 25 years in the UK have now received the HPV vaccine."
Robert Music, from Jo's Cervical Cancer Trust, said although uptake of the vaccine in the UK is high, it is slipping.
"We cannot afford to get complacent. We must strive to reduce the myths and stigma around the vaccine."
Vaccine safety is kept under constant review and the Cochrane Group says that more data is required to provide greater certainty about very rare side-effects.
What is the HPV vaccine?
Girls can get it free from the NHS from the age of 12 up to 18. It is designed to stop them getting infected with a virus – Human Papilloma Virus (HPV) – which can cause abnormal changes to the cells of the cervix or neck of the womb that, if untreated, can lead to cancer.
The jab used by the NHS is called Gardasil and it protects against four strains of HPV – 16, 18, 6 and 11. Types 16 and 18 are the "high risk" ones linked to cervical cancer.
Girls are offered the vaccine ideally before they become sexually active, meaning they are unlikely to have come into contact with the virus at that time.
How dangerous is HPV?
HPV infections are very common and don't usually cause any symptoms, meaning most people won't know they're infected.
They can be caught by any close skin-to-skin sexual contact with another person who already has one.
In most cases, HPV goes away on its own and doesn't cause any health issues. But some women with the high risk strains won't clear it and may develop cancer.
Untreated, a third of high-grade cellular changes will lead to cervical cancer, which is why the NHS offers HPV jabs and smear tests to prevent or detect and treat any abnormalities.
What about HPV jabs for teenage boys?
In some countries, boys are also routinely offered an HPV jab – to protect them and their future partners. HPV can cause anal and penile cancer, as well as oral cancer.
In the UK, the vaccine is recommended for men who have sex with men.
What about older women?
The jab should be given before someone has come into contact with HPV.
The NHS does not offer the vaccine to women over the age of 18.
All women between the ages of 25 and 64 should still attend for regular smears even if they have been immunised. The smear test can be used to check for HPV infection and to look for any pre-cancerous cell changes that might need treating.