An Indiana family is learning to cope with their toddler son's new reality after a mystery illness cost the young boy the lower half of his four limbs. Ashley Cox said she took her son Jeremiah and his siblings to the park in late September,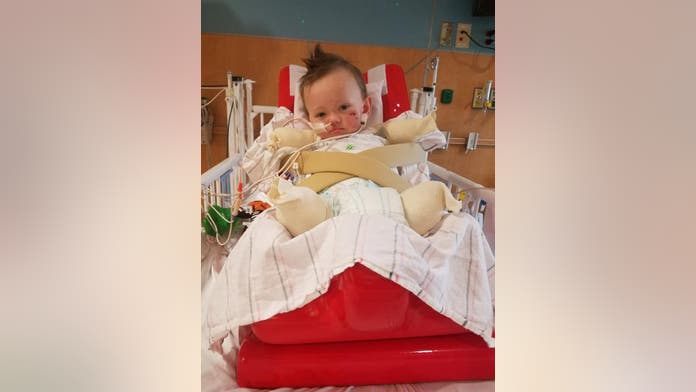 Cox said her son began running a fever the next day, and that they wound up at Riley Children's Hospital as his health began to decline. Within minutes of their arrival, purple spots began covering his body.
SAME-SEX COUPLE BOTH CARRIED BABY IN MEDICAL FIRST
Nicholas Thompson, the boy's father, told the news outlet that doctors described the symptom as purpura, but couldn't determine the type of bacteria causing it. According to the U.S. National Library of Medicine, purpura is the appearance of purple discolorations on the skin caused by bleeding under the skin.
Dr. Alyson Baker, who was part of Jeremiah's care team, said the doctors determined the toddler was in septic shock and knew they had to act quickly.
"And septic shock really we talk about the golden hour," she told Fox 59. "One hour from the time you get sick to get those antibiotics in so that you need fewer things down the road."
Jeremiah was quickly given antibiotics that knocked out the infection before doctors could determine what it actually was.
"If they didn't give it to him my boy wouldn't be here," Cox told Fox 59. "So, Riley really saved our son."
TODDLER'S EYE REMOVED AFTER 'PIRATE GAME' REVEALS EXTREMELY RARE CANCER
But the damage to Jeremiah's limbs that was caused by the virus couldn't be reversed, and doctors were forced to amputate below both knees and elbows. The boy's family, who welcomed their youngest child while Jeremiah was fighting for his life, said he does not have a timetable for release, said they haven't been able to tell his siblings about his amputations.
"One day my son could be the top designer of prosthetic legs and arms because he went through this," Thompson told Fox 59. "He can do anything in his lifetime. This might stop him now, but I think the future can be bright for him."
The family said their faith is helping them cope and has had a GoFundMe page set up on their behalf.