Harvey Davis comes to open the gate to his dusty, wind swept compound in the remote part of northern Namibia.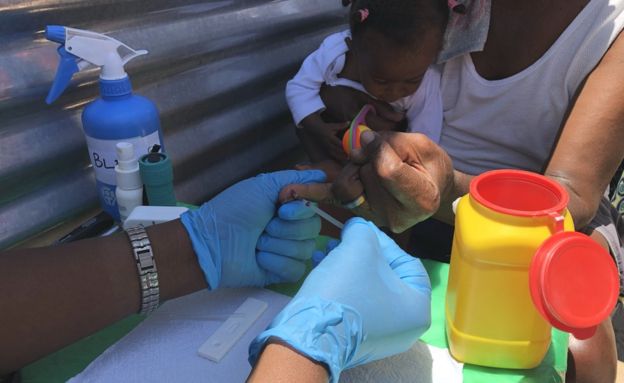 "Welcome, welcome, it's been so long since we've had visitors," he exclaims at the two health workers.
The 79-year-old summons his wife, Ruth Nasidengo, who is 40, from their home. She emerges with two babies, clinging to each arm.
This is the front line in Namibia's war against HIV, where a data-driven on-the-ground approach has helped it become one of the most successful countries in tackling its spread.
The red-uniformed health workers are field officers, who report to a troop commander, who in turn is under a division commander. Rather than guns, their weapons are a small plastic table and a cooler bag filled with ice packs and HIV tests.
Leontine Iipinge and Maria Johannes have walked more than 3km (2 miles) from their base in the Oshana region to visit the couple.
The initials TCE, meaning Total Control of Epidemic, stand out in bold letters on their shirts. It is a programme run by a national NGO, Development Aid from People to People (Dapp Namibia).
The field workers are two of more than 200 TCE health workers serving a population of nearly 182,000.
Mrs Nasidengo, a mother of twins, has been living with HIV for over a decade and has been a client of TCE for two years.
But this visit is about her husband as he is about to get his first home HIV test.
The ice packs in the cooler maintain the correct temperature for the rapid tests.
With his 11-month-old daughter, Dora, sitting on his lap Mr Davis watches as Ms Iipinge unpacks and disinfects her instruments and pricks his finger.
"I'm not worried," he quips, "but it sure looks like Dora is."
Detective work
As the 15 minutes tick by before the result is known, Ms Iipinge explains how testing the partners of people with HIV helps contain the spread of the virus.
Back at their base in Oshakati town, they compile data of all people known to be HIV-positive and then set about tracing their sexual partners to establish their HIV status.