A woman has died after undergoing bee-sting therapy, a form of treatment backed by Gwyneth Paltrow.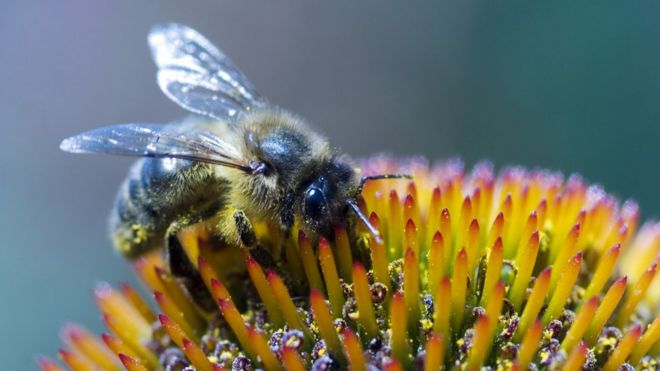 The 55-year-old Spanish woman had been having live bee acupuncture for two years when she developed a severe reaction.
She died weeks later of multiple organ failure.
Researchers who studied the case say live bee acupuncture therapy is "unsafe and unadvisable".
It is thought to be the first death due to the treatment of someone who was previously tolerant of the stings.
The woman's case has been reported in the Journal of Investigational Allergology and Clinical Immunology, by doctors from the allergy division of University Hospital, Madrid.
She had been having the treatment once a month for two years at a private clinic to improve muscular contractures and stress.
During a session, she developed wheezing, shortness of breath, and sudden loss of consciousness immediately after a live bee sting.
She was given steroid medication but no adrenaline was available, and it took 30 minutes for an ambulance to arrive.
The woman had no history of any other diseases like asthma or heart disease, or other risk factors, or any previous allergic reactions.
What is apitherapy?
Apitherapy is the use of substances from honeybees, such as honey, propolis, royal jelly, or even venom (extracted or from live bees), to relieve various medical conditions. One type of apitherapy is live bee acupuncture.
Although some benefits of apitherapy have been reported, they have mainly been anecdotal.
Bee-venom therapy has been used for treating conditions including arthritis and MS.
The theory behind the treatment is that bee stings cause inflammation leading to an anti-inflammatory response by the immune system.
But the Multiple Sclerosis Trust says "there is no research to show it is an effective treatment for people with MS". They said a 2008 review of non-conventional approaches to treating MS found that there was only marginal evidence for bee-venom therapy.
In an interview with the New York Times in 2016 Gwyneth Paltrow said she had tried apitherapy.
"I've been stung by bees. It's a thousands-of years-old treatment called apitherapy. People use it to get rid of inflammation and scarring. It's actually pretty incredible if you research it. But, man, it's painful."
And on her wellbeing website Goop she says she was "given 'bee-venom therapy' for an old injury and it disappeared".
Last year, Gerard Butler revealed he had been injected with bee sting venom to try to help reduce inflammation from stunt work. He ended up in hospital after he was injected with the venom of 23 bees. He said he felt like his heart might explode and as if he had ants under his skin.
The doctors found severe anaphylaxis had caused a massive stroke and permanent coma with multiple organ failure.
The report's authors called for:
Patients to be fully informed of the dangers of apitherapy before undergoing treatment
Measures to identify sensitised patients at risk should be implemented before each apitherapy sting
Apitherapy practitioners should be trained in managing severe reactions
Apitherapy practitioners should be able to ensure they perform their techniques in a safe environment
They should have adequate facilities for management of anaphylaxis and rapid access to an intensive care unit
But they acknowledged that because the treatment often takes place in private clinics, these measures may not be possible.
One of the report's authors Ricardo Madrigal-Burgaleta concluded: "The risks of undergoing apitherapy may exceed the presumed benefits, leading us to conclude that this practice is both unsafe and unadvisable."
Amena Warner, Head of Clinical Services for Allergy UK, said:
"The public need to be very aware of the unorthodox use of allergens such as bee venom. This will come with risk and, in susceptible individuals, can lead to serious life threatening reactions."